"Wayne County E911, Lyons, New York"
Overview
Incorporated in 1985, CEDRA has a long history in providing GIS services in its being an authorized Esri Business Partner for close to 25 years. CEDRA's relationship with Esri began in 1987 when Jack Dangermond (President of Esri) and Constantine Tonias, P.E. met to discuss how engineering and GIS could be integrated. As a result of this meeting Esri and CEDRA began working together on projects, such as the City and County of Honolulu Water/Wastewater GIS Implementation and the City of Oklahoma City's GIS/Engineering projects. In addition to jointly working on projects Esri and CEDRA have pursued numerous business opportunities. It should be noted that CEDRA has close relationships with Esri marketing and development staff, not only in Redlands (Esri's headquarters) but also in most of Esri's regional offices.

In addition to providing GIS services nation-wide, CEDRA develops, markets and supports a suite of ArcGIS based software extensions worldwide. These extensions are desktop and server based and operate on the ArcGIS 9.x and 10.x platforms. CEDRA's software development work requires that its software supports the latest Esri technology. As such, CEDRA always has the latest version of Esri software in-house. Given CEDRA's software and services efforts, it is evident that CEDRA is highly experienced and skilled in developing, implementing and utilizing ArcGIS based software.

CEDRA's corporate mission is to provide services and software that improves the efficiency and productiveness of its clients. This goal is achieved by: (a) developing software that is production oriented and (b) offering services which enables clients to streamline their workflow. CEDRA is a firm believer that the more automated a workflow can be made, the more efficient a client will be and a higher quality product will be produced.

Over the last few years the GIS community has been trending towards a web based operating platform. This platform can be cloud based, such as ArcGIS Online, or server based, ArcGIS Server on an organization's server, see the figure below. CEDRA has recognized this trend and offers services to assist municipalities and governmental agencies to migrate to this new platform as well as software that operates in a web based environment. Using the Internet enables a municipality to reduce costs (less desktop licenses) and maintenance (less PCs to maintain).
City of Edmond, Oklahoma - ArcGIS Server Web Application with the CEDRA-DataEditor software embedded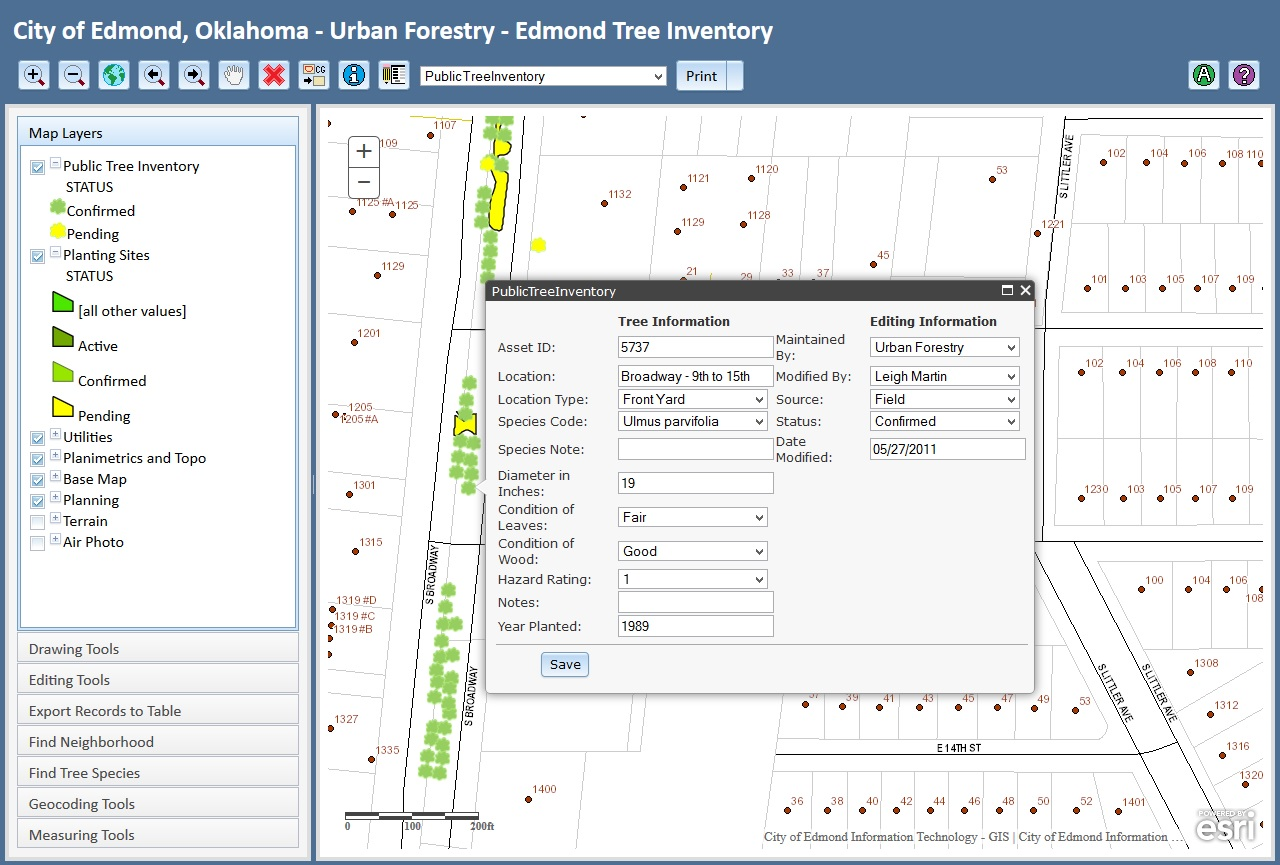 Shown above is an example of an Urban Forestry database management system based upon ArcGIS Server technology which CEDRA assisted the City in developing. This application is used by the City's Urban Forestry department and has been deployed on the field crew's mobile iPad devices.
---